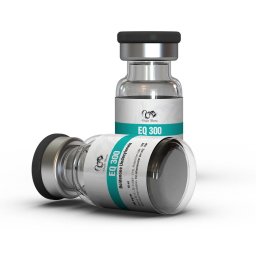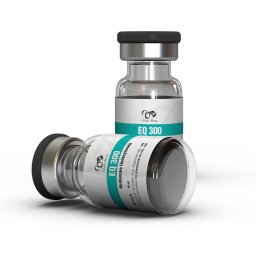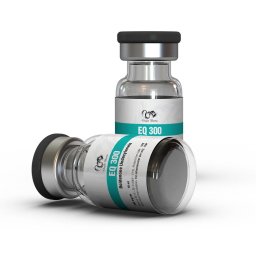 Dragon Pharma
EQ 300
Manufacturer: Dragon Pharma, Europe
Substance: Boldenone Undecylenate
Pack: 10 ml vial (300 mg/ml)
EQ 300 Detailed
What is Boldenone Undecylenate

Boldenone Undecylenate is an anabolic steroid that can be found under the trade names Equipoise, Equigan or Ultragan. Boldenone is a derivative of testosterone that has mainly anabolic activity and low androgenic properties. EQ 300 has a pretty long undecylenate ester chain attached, which provides a long activity of the drug. In the recent years the drug became very popular among athletes and powerlifters due to its favorable properties, and it is believed to be more androgenic than Deca Durabolin; therefore being ideal replacement for it.

The steroid is commonly used on horses in order to give the animal an effect of a lean bodyweight, increased appetite as well as for the animal's general disposition. Humans take this drug for approximately the same purpose: to gain slow but constant quality muscles. Depending on personal goals, EQ 300 can increase one's appetite, for some people this can be referred to as a side effect.

How to use EQ 300

Boldenone Undecylenate can be used by both men and women. Usually, the drug is used in injectable form and the dosage depends on each personal goal and health condition. It has been established that if using the drug in injectable form (most common form), a dosage of about 400 to 600 mgs per week for men would be enough for a good ratio of benefits/side effects. However, there are cases when people used 100 mgs per week due to their long cycle aids. It is strongly recommended not to increase the dosage of 600 mgs per week because reports show no beneficial results; while higher risks of side effects are possible.

For women, the dosage ranges anywhere between 50 and 150 mgs per week. In order to maintain stable levels, one should use the injection every other day. If this is not possible then it should be done at least once a week. Effectiveness is not the same if one takes it less than once per week.

The recommended bulking cycle length is about 10 to 12 weeks and no less! EQ is a slow acting drug, therefore, effectiveness is not the same if one takes it less than 10 weeks. Athletes and bodybuilders often stack this drug with other steroids such as Anadrol, Dianabol, Proviron, Parabolan or Winstrol and others, depending on personal goals.

Side effects of Boldenone Undecylenate

It is common for most steroids to increase the number of red blood cells (RBC), but Boldenone does it slightly in greater proportions. As it was mentioned before, an increased appetite is common for many users of Boldenone, so for many people it is an unpleasant side effect. Thee good part is that it can be controlled with the help of another cutting steroid.

It is believed that this drug has mild side effects however, as any other steroid, it still has some: oily skin, unusual hair loss, unusual hair, deepening of the voice or increased aggression. One of the biggest side effects of the drug is that it can cause acne on the chest, back and shoulders areas. Even though all these side effects are possible, usually they are related only when using higher doses. Other side effects are not medically listed. If you don't feel well or some of the negative effects mentioned above are noticed while taking this drug, immediately contact your doctor!
Please log in to write EQ 300 review.
Zerox Pharmaceuticals
Manufacturer: ZZerox Pharmaceuticals
Active Substance: Boldenone Undecylenate
Package: 10 amps (250 mg/ml)
Beligas Pharmaceuticals
CATEGORY: ANABOLIC-ANDROGENIC INJECTABLE STEROIDS (AAS)
Manufacturer: Beligas Pharmaceuticals
Substance: Boldenone Undecylenate
Pack: 10 ml VIAL
Strength: 300 mg/ml
Dosage: 2ml/week; 6-10 weeks;
Goal: Lean Mass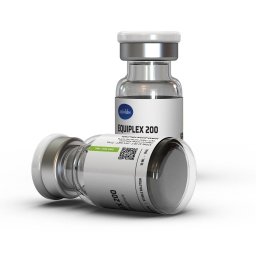 Axiolabs
MANUFACTURER: Axiolabs
GOAL: Lean Mass
TYPE: Injections
ACTIVE SUBSTANCE: Boldenone Undecylenate
STRENGTH: 200mg/ml
AMOUNT: 10ml vial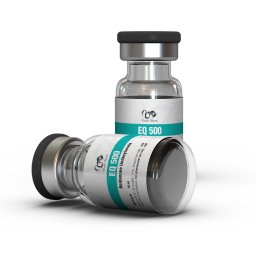 Dragon Pharma, Europe
Manufacturer: Dragon Pharma, Europe
Substance: Boldenone Undecylenate
Pack: 10 ml vial (500 mg/ml)
Axiolabs
MANUFACTURER: Axiolabs
GOAL: Lean Mass
TYPE: Injections
ACTIVE SUBSTANCE: Boldenone Undecylenate
STRENGTH: 400mg/ml
AMOUNT: 10ml vial