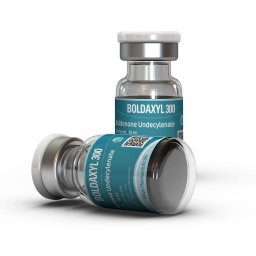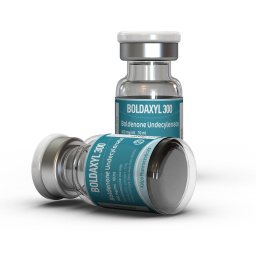 Kalpa Pharmaceuticals
Boldaxyl 300
Manufacturer: Kalpa Pharmaceuticals
Substance: Boldenone Undecylenate
Pack: 10 ml vial (300 mg/ml)
Boldaxyl 300 Detailed
What is Boldaxyl 300
Boldenone Undecylenate is the chemical name of the active substance in the preparation Boldaxyl 300 (can be used under such names as Ganabol, Boldesten, Equipoise). This is an anabolic steroid which was originally developed for use by veterinarians. Initially it was designed as one of long-lasting versions of Dianabol. For most athletes it is not the most popular of anabolic steroids only because there are other options available to the same extent suitable to achieve the main objectives of the course.
While taking the drug, athletes talk about a low but steady increase in muscle mass. There are different opinions. Boldaxyl showed as a great stimulant in the process of hematopoiesis. Oxygen supply to the muscles enhances with the increase in the number of erythrocytes. For athletes such indicators are very important. If we compare the efficacy of Boldenone Undecylenate and Dianabol, the results obtained in mass gaining and increase of strength are almost identical. The drug increases the power rates and significantly increases appetite. Like most steroids, it helps build muscle mass by increasing the nitrogen balance in a positive way, which leads to a productive protein synthesis and a significant increase in appetite!
Before deciding on the use of this drug, one should clarify how to take Boldaxyl 300.
How to take Boldaxyl
The course is based on the optimal, structured use of the drug. Take it at 400-600 mg per week. Small volumes may simply have no effect. Increased dosages can not only lead to great results, but also harm your health. Duration of the course - from 8 to 10 weeks.
Boldaxyl is well demonstrated in conjunction with Winstrol and Anavar during cutting stage; Trenbolone and testosterone with increasing mass (such approach allows reduce the duration of the use of drugs because a combination of such drugs is capable of reducing the amount of testosterone).
Consult an expert before you start the course of Boldaxyl. 2 weeks after the end of the course start taking testosterone boosters during one month to restore natural testosterone. For maximum effectiveness of the course take complex of sports nutrition for muscle mass and keep to a diet for gaining lean muscle.
Side effects of Boldaxyl
Boldaxyl 300 has a serious drawback - its long half-life which most likely is at least 12 days. Because of this, long period of time is observed after the last injection during which the concentration of the hormone in the body is not high enough for optimal anabolic effect, but on the other hand is not sufficiently low for the restoration of the natural production of testosterone. The solution to this problem is to use Boldaxyl 300 only as the initial stage of course. Boldenone Undecylenate has very weak estrogenic activity, which has a rather positive, than negative effect. Usually in the normal dosage (300-400 mg/week) such phenomena as gynecomastia and excessive deposition of fat are excluded. In the case of androgenic effect, prolonged use or high doses can cause slight virilizing effects such as acne and hair growth.
Boldaxyl 300 Reviews
Please log in to write Boldaxyl 300 review.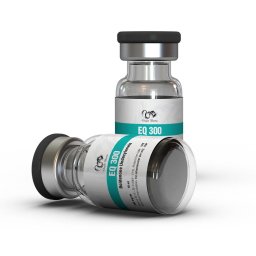 Dragon Pharma, Europe
Manufacturer: Dragon Pharma, Europe
Substance: Boldenone Undecylenate
Pack: 10 ml vial (300 mg/ml)
Odin Pharma
Manufacturer: Odin Pharma
Substance: Boldenone Undecylenate
Pack: 10 ml vial (200 mg/ml)
FOR USA ONLY!!!
Axiolabs
MANUFACTURER: Axiolabs
GOAL: Lean Mass
TYPE: Injections
ACTIVE SUBSTANCE: Boldenone Undecylenate
STRENGTH: 400mg/ml
AMOUNT: 10ml vial
Xeno Laboratories
Manufacturer: Xeno Laboratories
Substance: Boldenone Undecylenate
Pack: 10 ml vial (300 mg/ml)
ONLY FOR USA
7Lab Pharma, Switzerland
Manufacturer: 7Lab Pharma, Switzerland
Substance: Boldenone Undecylenate
Pack: 10 ml vial (200 mg/ml)