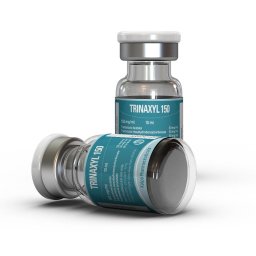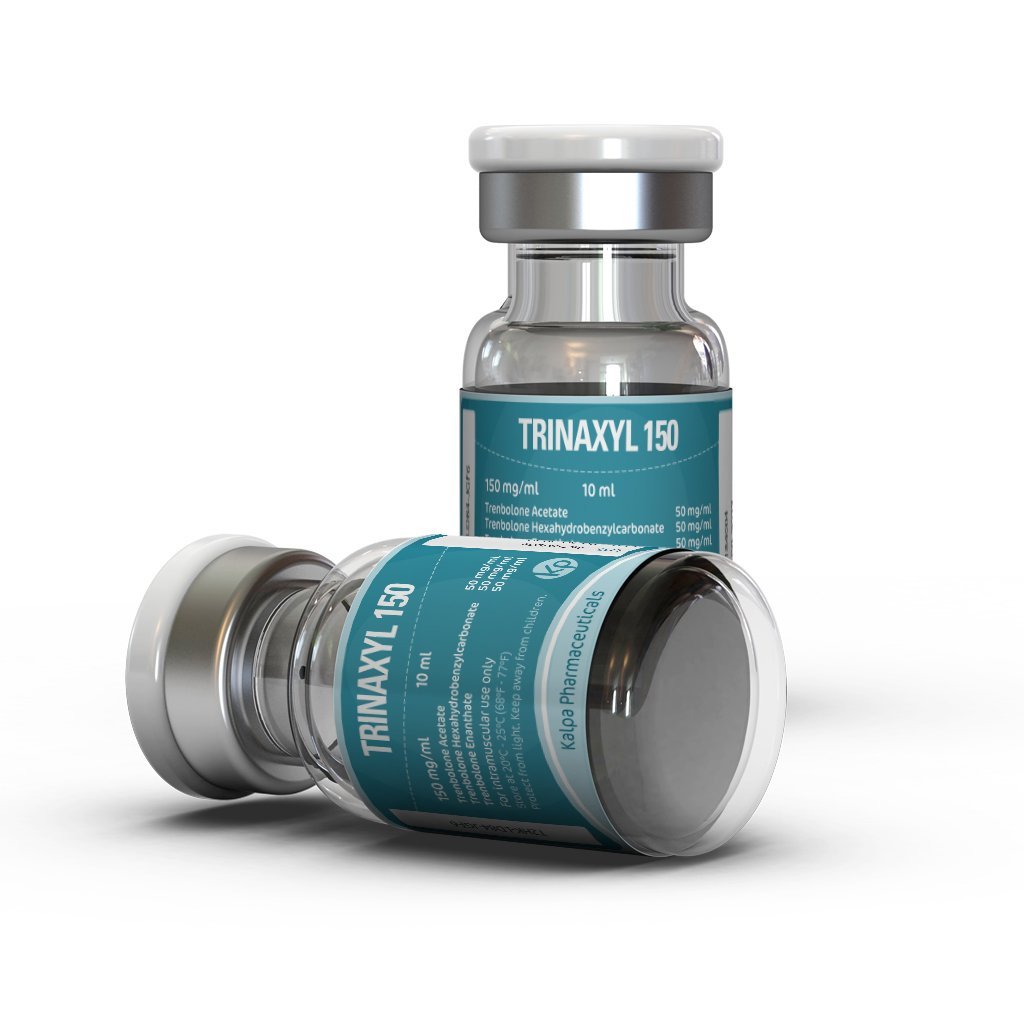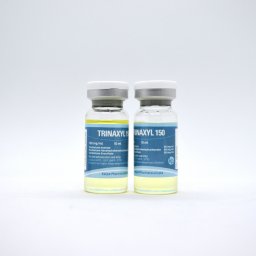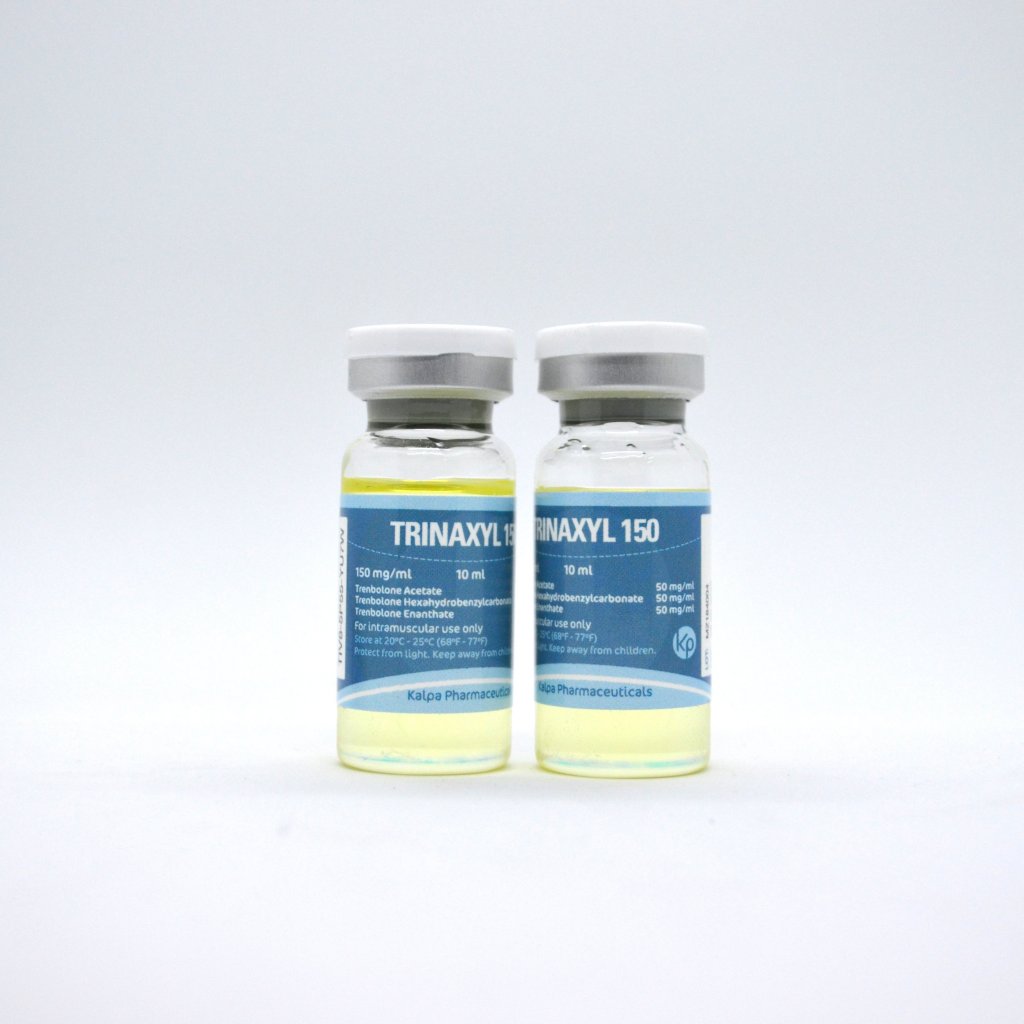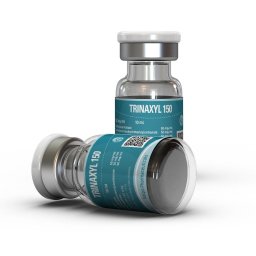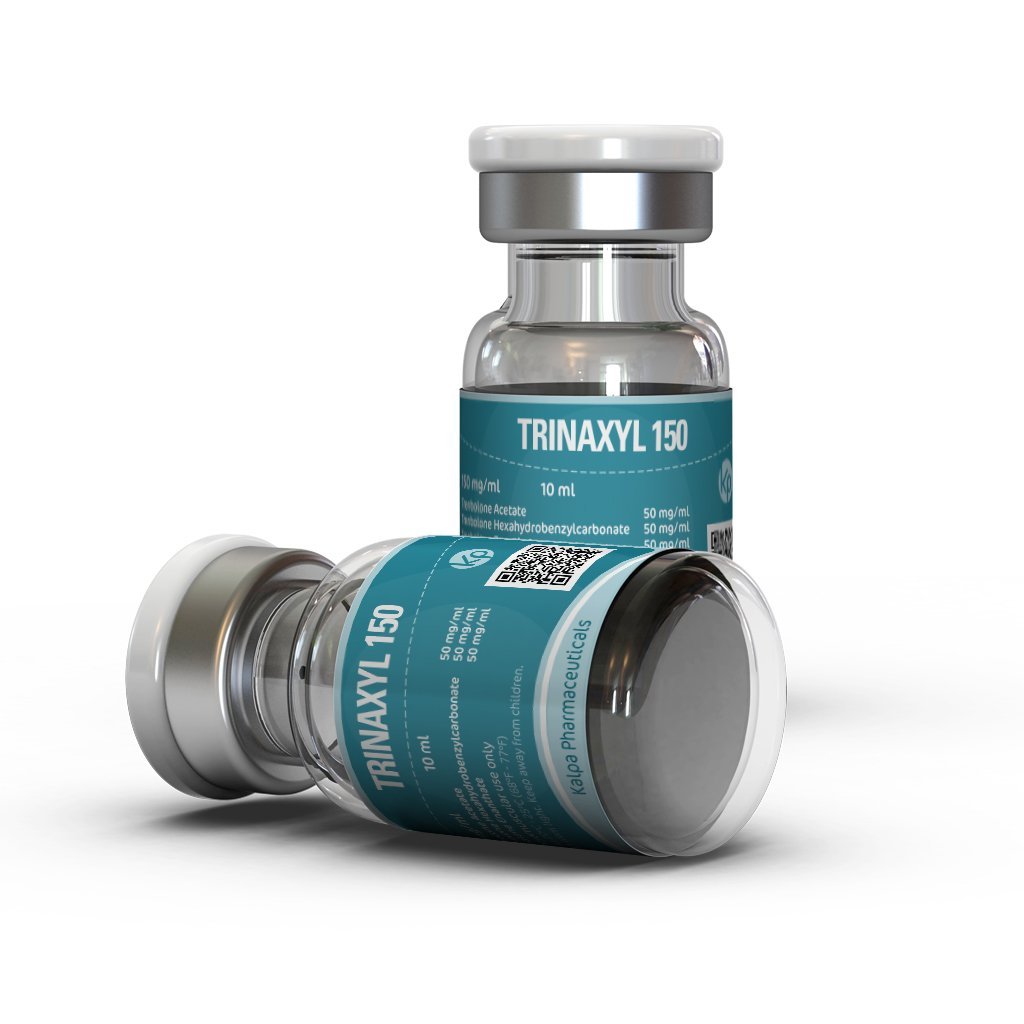 Kalpa Pharmaceuticals
Trinaxyl 150
Manufacturer: Kalpa Pharmaceuticals
Substance: Trenbolone Enanthate, Trenbolone Hexahydrobenzylcarbonate, Trenbolone Acetate
Pack: 10 ml vial (150 mg/ml)
Trinaxyl 150 Detailed
What is Trinaxyl 150

Trinaxyl (Tri Tren) is a mixture of esters of Trenbolone. Trinaxyl is an androgen and anabolic drug. It is a steroid mix. This is an excellent mixture of short and long esters. The active substance of Trinaxyl: Trenbolone Enanthate 100 mg - 50 mg, Trenbolone Hexahydrobenzylcarbonate - 50mg, Trenbolone Acetate - 50mg. Depending on the manufacturer, there can be different amount of substance in the mix.
Trinaxyl is the strongest anabolic steroid. It allows the athlete quickly increase muscle mass and strength indices. During the course the athlete can collect up to 10 kg muscle of high quality. It is important that Trinaxyl is not converted into estrogen. Because of this, significant delays in the body of water do not occur. This steroid helps to burn fat. This allows achieve growth in dry muscle mass.
Trinaxyl creates a positive nitrogen balance in the body and helps to improve the process of protein synthesis, and also allows muscle tissue to grow faster. In order to improve the anabolic effect, it is necessary to use a special diet for athletes, observe a diet for weight gain.
Trinaxyl has two long and one short Trenbolone ester, therefore this steroid manifests itself after the first injection and is 10 days valid. It provides a continuous action of the active substance on the processes in the body.
The main effects of a mixture of esters of Trenbolone (Trinaxyl):
- The maximum increase in muscle mass (strongest anabolic);
- Very rapid increase in power performance;
- Increases levels of IGF;
- Promotes fat burning when combined with proper diet;
- Increases libido during the course;
- Lowers cortisol.
Trinaxyl substance was brought to market in 2004 and soon was picked up by all underground companies of the world. Trinaxyl consists of three esters of Trenbolone Acetate, Enanthate and Hexahydrobenzylcarbonate. This mixture would speed up the action of Trenbolone as quickly as possible at the expense of Acetate ester which creates a peak substance during 3 days followed by Enanthate - 10 days and Hexahydrobenzylcarbonate - 12 days. In order to avoid recession of substances in the blood, one should use at least two injections per week.
Use of Trinaxyl 150

Typically, to gain muscle athletes use two injections a week, making a total of 400-300 mg of Trenbolone (three esters) depending on the manufacturer of the drug. Since this drug is not for beginners, the minimum dosage is designed for experienced athletes. For those who have decided to start out with Trinaxyl, we would recommend using separate Acetate.
There are many possible combinations of Trinaxyl, most of them include: Trinaxyl + testosterone, Trinaxyl + Stanozolol + Testosterone, Methane + Trinaxyl + Testosterone, and others.
Side effects of the mixture of esters of Trenbolone (Trinaxyl 150)
The most frequent problems from the use of Trinaxyl: sleep problems, blood pressure, irritability, acne, baldness.
Progestin side effects: gynecomastia, reduction of natural testosterone, increase in body fat.
To avoid them, you may use such drugs as Dostinex or Proviron.
Women are not recommended to use this drug because of its virilization effects. Even if they use it, the dosage should be minimal.
Please log in to write Trinaxyl 150 review.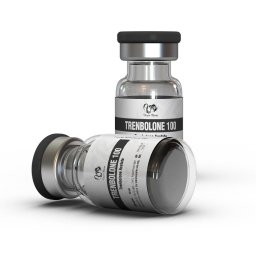 Dragon Pharma, Europe
Manufacturer: Dragon Pharma
Substance: Trenbolone Acetate
Pack: 10 ml vial (100 mg/ml)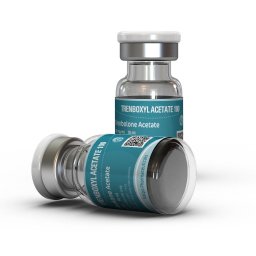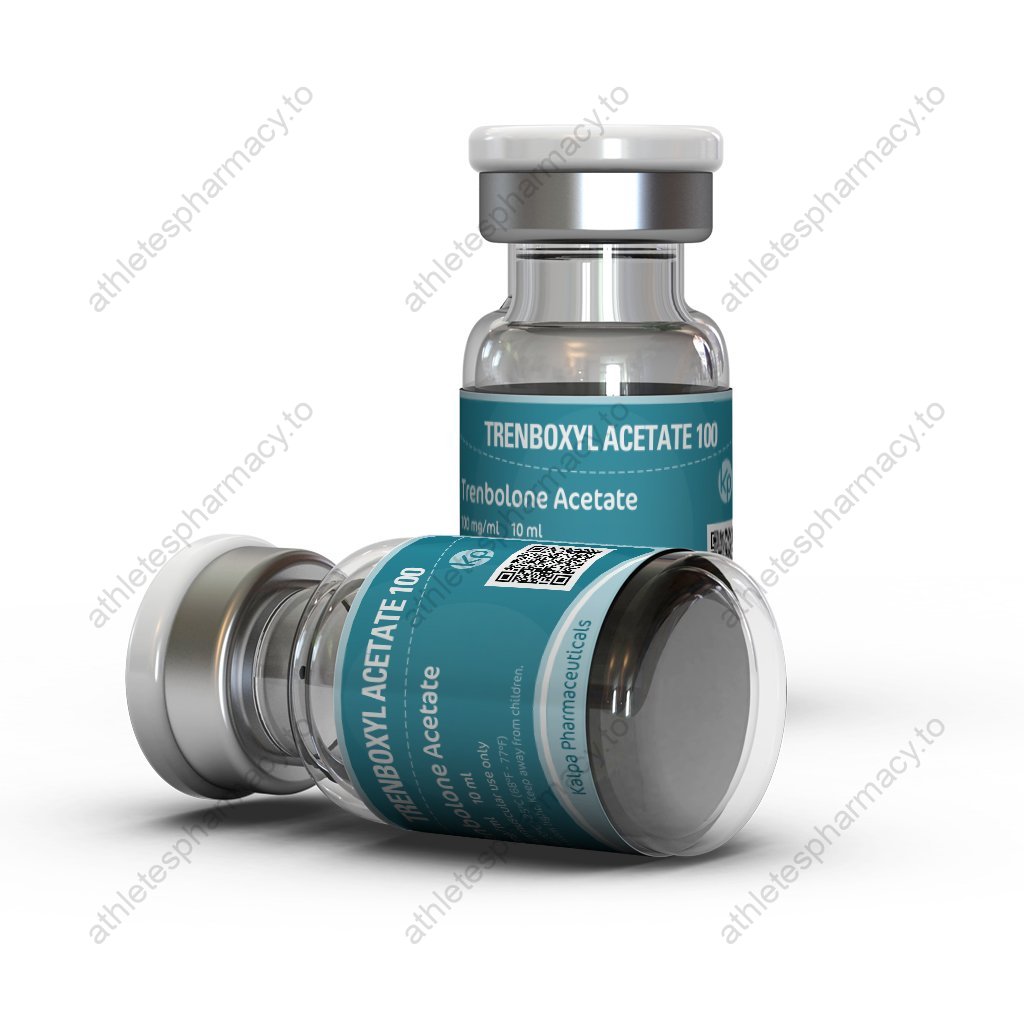 Kalpa Pharmaceuticals LTD, India
Manufacturer: Kalpa Pharmaceuticals
Substance: Trenbolone Acetate
Pack: 10 ml vial (100 mg/ml)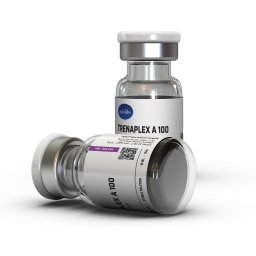 Axiolabs
MANUFACTURER: Axiolabs
GOAL: Strength & Cutting
TYPE: Tabs
ACTIVE INGREDIENT: Trenbolone Acetate
STRENGTH: 100mg/ml
AMOUNT: 1x10ml vial
Beligas Pharmaceuticals
CATEGORY: ANABOLIC-ANDROGENIC INJECTABLE STEROIDS (AAS)
Manufacturer: Beligas Pharmaceuticals
Active Substance: Trenbolone Acetate
Pack: 10 ml VIAL
Strength: 100 mg/ml
Dosage: 1ml/EOD; 6-10 weeks;
Goal: Cutting
Zerox Pharmaceuticals
Manufacturer: ZZerox Pharmaceuticals
Active Substance: Trenbolone Acetate
Package: 10 amps (100 mg/ml)