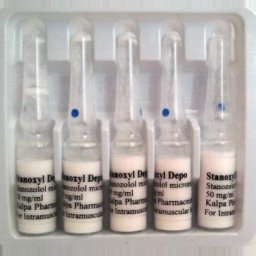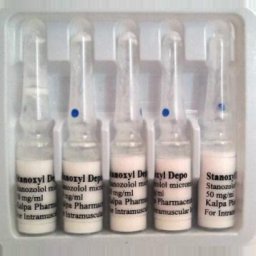 Kalpa Pharmaceuticals
Stanoxyl Depot
Manufacturer: Kalpa Pharmaceuticals
Substance: Stanozolol
Pack: 5 x 1ml amp (50mg/ml)
Stanoxyl Depot Detailed
What is Stanoxyl Depot
Stanozolol is an anabolic steroid injection which appeared in 80-s. Stanoxyl Depot is a popular brand for anabolic steroid Stanozolol, presented by Kalpa Pharmaceuticals. Stanoxyl Depot is very popular in bodybuilding. It has almost no effect on body weight. At the same time other advantages include: significant increase in strength and endurance, increased appetite, lipolysis, rapid elimination of fluid from the body. Stanoxyl Depot is more conducive to muscle growth than androgenic activity production. Maybe on its anabolic properties the drug is not so potent compared to stronger preparations. But it is one of the most reliable means to build muscles. The active substance in this steroid, Stanozolol, is a steroid that almost does not retain water in the body and is not converted into estrogen. One of the benefits is that this steroid has a faster acting, is not very strong and the side effects of it are minimal (if not exceed the dose).
How to take Stanoxyl Depot
Stanoxyl Depot is best taken with some sort of other steroid, as it contains little androgenic components. This steroid is suitable for both gain of muscles and strength and for the preparation before the competition, as the delay of fluid in the body is not significant. Those people who are starting to take steroids, it is suitable in combination with Primobolan or Deca Durabolin. These drugs are not very strong and the side effects from them are minimal. Stanoxyl course is suitable for those athletes who have sufficient weight and moderate fat content. General rules for injectable form are:
- Daily optimal dose: 50 mg.
- The course should start with a minimal dose and be increased to an optimum level.
- Duration of course: 6-8 weeks.
- For 1.5 weeks before the end of the course the dosage of the drug needs to be gradually reduced to a minimum value.
- The greatest effect is obtained from the course if taking sports nutrition at the same time.
Described course does not need to conduct follow-up therapy.
Taking Stanoxyl Depot, you can simultaneously add other drugs. This depends on the particular purpose. If the objective is to increase muscle mass, Stanoxyl Depot reception can be combined with other, more potent androgens.
Take breaks between the injections.
Side effects of Stanoxyl Depot
Side effects of Stanoxyl Depot appear very rarely. They are absent in properly structured courses. The side effects of this medication include: muscle spasms, headache, increased pressure, load on the liver at high doses. If a woman takes more than 50 mg, there can be changes in the voice, increased amounts of androgens in her body, scars on the body from injections. Despite the good tolerability, injection forms are not suitable for women. This is due to the risk of androgenic accumulation. If still used injection, the vial should be divided at least in half. Some ambitious women do injections every other day. However it is better to avoid such scheme. Although the active ingredient is a moderate androgen, there is a risk of masculinizing effects.

Stanoxyl Depot Reviews
Please log in to write Stanoxyl Depot review.
Beligas Pharmaceuticals
CATEGORY: ANABOLIC-ANDROGENIC ORAL STEROIDS (AAS)
Manufacturer: Beligas Pharmaceuticals
Substance: Stanozolol
Pack: 50 tabs
Strength: 20 mg/tab
Dosage: 10-50mg/day; 1-5 weeks;
Goal: Cutting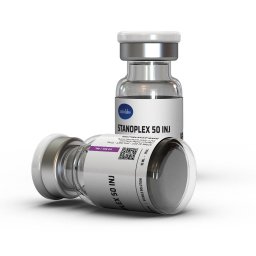 Axiolabs
MANUFACTURER: Axiolabs
GOAL: Cut and Lean Look
TYPE: Injections
ACTIVE INGREDIENT: Stanozolol
STRENGTH: 50 mg/ml
AMOUNT: 1x 10ml vial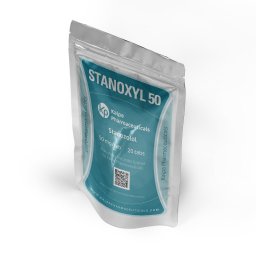 Kalpa Pharmaceuticals LTD, India
Manufacturer: Kalpa Pharmaceuticals
Substance: Stanozolol
Pack: 20 tabs (50 mg/tab)
Zerox Pharmaceuticals
Manufacturer: ZZerox Pharmaceuticals
Active Substance: Stanozolol
Package: 10 amps (50 mg/ml)