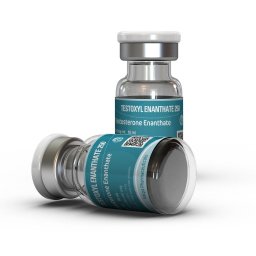 Kalpa Pharmaceuticals
Testoxyl Enanthate 250
Manufacturer: Kalpa Pharmaceuticals
Substance: Testosterone Enanthate
Pack: 10 ml vial (250 mg/ml)
Testoxyl Enanthate 250 Detailed
What is Testoxyl Enanthate 250
Testosterone Enanthate is an injectable testosterone, one of the most popular steroids in bodybuilding for the gain of muscle mass and strength. Enanthate is an ester of natural testosterone, i.e. Testoxyl Enanthate is a long-acting steroid. The most important effect of Testoxyl Enanthate is distinct gain in muscle mass and strength. That is why it is widely used in bodybuilding, powerlifting and other strength sports. It has also very pronounced effect of pumping. Pumping leads to filling the muscles with blood, the muscle receives more blood than it can pump out. Therefore, the muscles swell up and become huge. This feeling can not be confused with something else. So Testoxyl increases this feeling very intensely. This long-acting testosterone won great fame in many power sports. This strong anabolic steroid is number one in preparation for competitions. Bodybuilders also prefer Testoxyl for its ability to quickly build a large amount of muscle. For one course of this androgen they can gain up to 10 kg muscle mass. Recovery after heavy trainings with testosterone will come much faster.
Testoxyl Enanthate has both anabolic and androgenic effects. Rapid gains in muscle mass are associated with a strong accumulation of water due to sodium retention and estrogenic effect on the body. Testoxyl Enanthate can help eliminate problems with joints - it is very useful for those who complain of pain in the shoulders, etc. Testosterone Enanthate promotes the regeneration of cells in the human body, i.e. improves recovery after intense training. It simply increases the overall tone, feeling (desire) to train more and more (a sense of vitality in general). The drug can be an excellent means of overtraining.
How to take Testoxyl Enanthate 250

Average dose of Testoxyl Enanthate: not more than 250-500 mg per week. Duration of action depends on metabolism and hormonal levels of a particular person, but on average the drug acts for 2-3 weeks. Therefore injections are performed once a week - it will be enough in order to maintain a high concentration of the drug in the blood. Injections are performed 1 time per week. Course lasts for 8-10 weeks. Athletes must also take aromatase inhibitors (these formulations are used to reduce the concentration of estrogen in the bloodstream and increase the level of testosterone).
Side effects of Testoxyl Enanthate 250

The main problem is the high aromatization (conversion to estrogen) and hence gynecomastia, edema, fat deposition on the female type and others. Therefore, it is very important to take antiestrogens during the course with Testoxyl Enanthate. Many people believe that anti-estrogens need to be taken only after the course and everything will be OK, but it is not so! There is a very high risk of getting gynecomastia during the course. Testoxyl causes a reduction in natural testosterone production, water retention, increased blood pressure, hair loss, aggression and other typical reactions.
Women in any case should not take the drug (high probability of masculinization). Masculinization means the appearance of excessive amount of hair on the body and woman's face, deepening voice and increased muscle mass, changes in the elasticity of the skin, acne, menstrual irregularities and others.
Testoxyl Enanthate 250 Reviews
Please log in to write Testoxyl Enanthate 250 review.