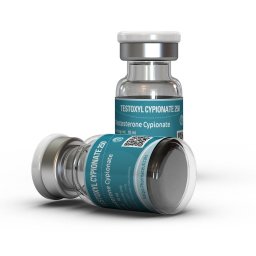 Kalpa Pharmaceuticals
Testoxyl Cypionate 250
Manufacturer: Kalpa Pharmaceuticals
Substance: Testosterone Cypionate
Pack: 10 ml vial (250 mg/ml)
Testoxyl Cypionate 250 Detailed
What is

Testoxyl Cypionate 250
The active chemical substance Testosterone Cypionate is known under trade name Testoxyl Cypionate by Kalpa Pharmaceuticals. Testosterone cypionate is a slow acting injectable form of testosterone. After a deep intramuscular injection, this drug is absorbed into the bloodstream within 2-3 weeks. This provides normal physiological levels of testosterone. As any other injectable testosterone, Testosterone Cypionate is very good for athletes in terms of increased muscle mass and strength.
Testoxyl Cypionate, dissolved injectable form of testosterone, has strong androgenic and anabolic effects. Testoxyl Cypionate is simply flavored. It gives a large increase in strength and muscle mass and may be combined with many steroids. This drug is a favorite testosterone in athletes. Although growth rates achieved with Testoxyl Cypionate are enormous, loss of strength and mass as discontinuation of the product are significant. A prerequisite for this is primarily suppression of testosterone. If you take the product in reasonable doses, its utility exceeds its bad side.
Testosterone Cypionate first appeared in the western market in the early 1950s. This drug was initially not very widespread: in fact, it was the replacement of testosterone enanthate in the U.S. market. Testosterone Cypionate was used clinically to treat men with low levels of androgens, reduced potency, loss of vigor. In the 1960s it was also used to improve the structure of bones and for the treatment of menorrhagia and combat osteoporosis. Testosterone Cypionate was also used as a drug for stimulation of spermatogenesis. By the end of the 1970s the concept of its application has been revised. Testosterone Cypionate remains to be one of the most popular drugs in the U.S. market and beyond.
How to take Testoxyl Cypionate 250
Testosterone Cypionate is administered about every two weeks, in some cases the interval is reduced to one week. The average single dose is of 250-500 mg per week in order to set the muscle mass. The drug gives good results during the course "solo". Practice shows that doses above 800-1000 mg do not lead to better results, but sharply increase the risk of side effects.
Combined course of Testosterone Cypionate differs little from the "solo" one. The drug is most often combined with Nandrolone at a dose of 200 mg per week.
Side effects of Testoxyl Cypionate 250

As with all injectable forms of testosterone, Cypionate causes a significant increase in muscle mass and strength during a cycle. Increased levels of testosterone can cause androgenic side effects such as oily skin, acne, hair growth on the body and face. For this reason, Testosterone Cypionate is not useful for the cycle. Excess estrogen levels caused by this drug can lead fairly quickly to the development of gynecomastia, which is manifested as soreness, swelling or lump in the nipple. To prevent this, use Nolvadex or Clomid drugs. Men with a genetic predisposition to hair loss may notice accelerated hair loss. Those who are bothered by this problem can use Nandrolone. Women should be aware of deepening of the voice, menstrual irregularities, facial hair growth and enlargement of the clitoris. Testosterone does not have hepatotoxic properties, therefore liver toxicity is unlikely.
Testoxyl Cypionate 250 Reviews
Please log in to write Testoxyl Cypionate 250 review.