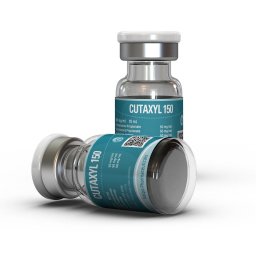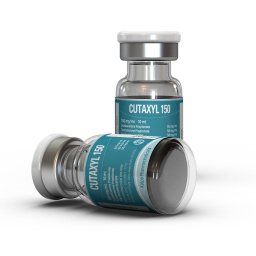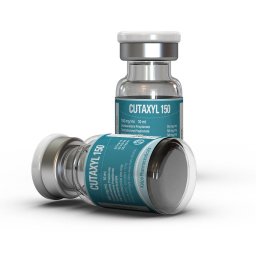 Kalpa Pharmaceuticals
Cutaxyl 150
Manufacturer: Kalpa Pharmaceuticals
Substance: Drostanolone Propionate, Trenbolone Acetate, Testosterone Propionate
Pack: 10 ml vial (150 mg/ml)
Cutaxyl 150 Detailed
What is Cutaxyl 150
Cutaxyl 150 (cut stack 150) by Kalpa Pharmaceuticals is a mixture of 3 different active things, each of 50 mg/ml: Drostanolone Propionate, Trenbolone Acetate, Testosterone Propionate.
Testosterone Propionate is one of the most popular steroids in bodybuilding. Testosterone propionate is used for the development of muscle mass and strength, but is often used in the cutting stage because of the nature of action. It is one of the esters of testosterone. One more feature of the drug is that it does not retain water in the body when properly selected dosages, or these manifestations are minimal. Therefore, Testosterone Propionate does not cause a sharp increase in body weight by 5-6 kg for a couple of weeks, but muscle mass gained will be drier and better. Once in the body, Testosterone Propionate is rapidly absorbed into the bloodstream, so the effect can be felt after the first injection.
Drostanolone Propionate causes special popularity due to the following facts. First, it is able to make your muscles hard and "filled" at a low content of fat and water in the body. This happens due to diversion of water from beneath the skin - think about the anti-estrogenic properties of the drug. Secondly, Drostanolone Propionate is able to provide "drive" - so necessary in training during tough low-carb diets. Moreover, this "drive" is not a myth - endurance under the influence of the drug increases very significantly. And, finally, Drostanolone very quickly begins to act and quickly leaves the body in 10 days since the last injection. All this taken together makes the drug indispensable when preparing for a competition, especially if they will take a drug test.
Trenbolone Acetate is one of the most popular forms for steroids. This is probably the most effective steroid of all existing for muscle growth and training for a competition. Trenbolone Acetate refers to a group of powerful anabolic steroids, allowing the athlete to achieve significant growth in power performance, the maximum increase of muscle mass. In addition, the drug burns body fat.
How to take Cutaxyl 150
The best effect is achieved when combined with other drugs. Novice athletes when using anabolic agents can be recommended a dosage of 50 mg every other day. The usual dose of more experienced athletes is from 100 mg daily and higher. Be sure to take anti-estrogen drugs such as aromatase inhibitors starting from the second week to avoid the development of gynecomastia, water retention and other estrogenic effects. Be sure to follow the diet for gaining weights and take sports nutrition.
Side effects of Cutaxyl 150
In reasonable dosages, side effects do not occur too often and can be easily prevented. As practice shows, in moderate doses Cutaxyl 150 does not affect either the liver or kidneys or any other organs. The drug is not recommended for receiving in women since high androgenic activity. Cutaxyl 150 does not cause such side effects as fluid retention, rise in blood pressure and has a low toxicity to the liver.
Cutaxyl 150 Reviews
Please log in to write Cutaxyl 150 review.
Axiolabs
MANUFACTURER: Axiolabs
GOAL: Cutting
TYPE: Injections
ACTIVE SUBSTANCE: Drostanolone Propionate
STRENGTH: 100mg/ml
AMOUNT: 10ml vial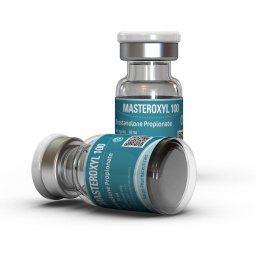 Kalpa Pharmaceuticals LTD, India
Manufacturer: Kalpa Pharmaceuticals
Substance: Drostanolone Propionate
Pack: 10 ml vial (100 mg/ml)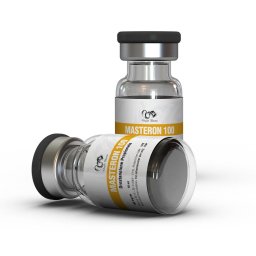 Dragon Pharma, Europe
Manufacturer: Dragon Pharma, Europe
Substance Drostanolone Propionate
Pack: 10 ml vial (100 mg/ml)
Zerox Pharmaceuticals
Manufacturer: ZZerox Pharmaceuticals
Active Substance: Drostanolone Propionate
Package: 10 amps (100 mg/ml)
Sciroxx
Manufacturer: Sciroxx
Substance: Testosterone Enanthate
Pack: 10 ml vial (250 mg/ml)